Skills for the Knowledge Worker
Know more about the tech tools you use. Focus on the skills you need.
"Don't be a know it all, be a learn-it-all"
- Satya Nadella
Master role-specific skills, and demonstrate you know them.
For the modern knowledge worker: Organize your portfolio of experience
Reference a role-specific index of skills and capabilities of a platform or service, with curated resources. Self-assess what you know or are learning. Capture, log, or journal what you've done with your skill and knowledge - for your benefit, the benefit of peers within your organization, and the benefit of a broader community.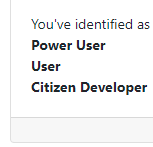 Know more. Grow more.
Learning takes time and effort. Make the most of your time by focusing efforts on the skills relevant to roles that matter to you.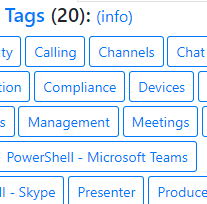 Demonstrate and Educate
Capture and share your stories and experience. Build your portfolio.
Highlight solutions for peers at your organization.
Demonstrate your capabilities for new jobs and opportunities.
---
Assess your skills
Define your roadmap
It's not a test. It's not a certification. It's a metric.
Periodically review role-specific and topic-aligned skills to identify next steps for skilling up and telling your story. Know what level you're at so you know where you want to go.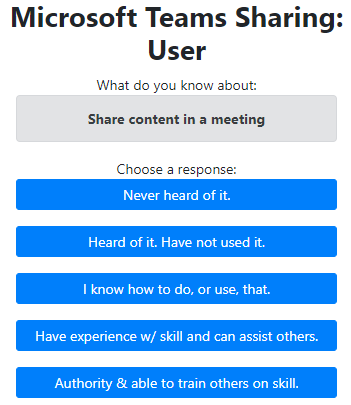 ---
Break free from Impostor Syndrome
Be confident in your successes.
Recognize and capture activities and successes as you work that demonstrates a personal career path of growth and value.
Build a catalog of what you've learned and business solutions you've addressed. Build your profile and be an example to others.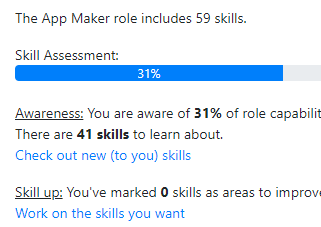 ---
Build your portfolio
Be in demand
Portfolios aren't just for the creative folks.
Choose role-specific personal examples from your catalog of experience to provide employers with a level of detail beyond what resumes and job sites (LinkedIn, etc.) show today.
Make your next job search a slam dunk with leveled-up salary that aligns with the value you bring.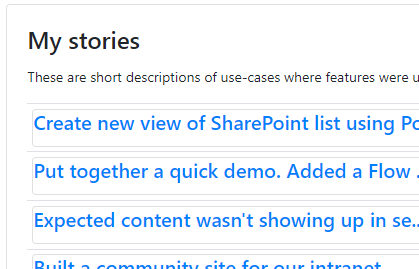 ---
Grow your skills
Build your confidence
Platforms and services change rapidly.
Gain awareness of capabilities new to you.
Learn how to use the features that matter.
Highlight role and product changes as capabilities evolve.
Advance your career by skilling up and becoming more capable.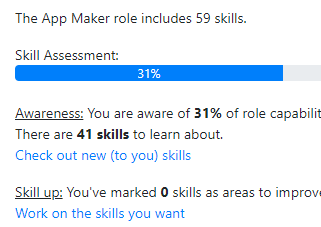 Curated content +
Skill models are built by product teams, community experts, and users of all levels. A dynamic feedback approach keeps content up to date and relevant to what users need.
Starting with Power Apps
Microsoft Power Apps will be the first platform available to users.
This is the domain we work in.
Just about any technical platform or service (maybe more) can be modeled.
Let us know what platform you'd like to see added or if you'd like to help with the Power Apps skill model.
Want to help with the skill model?
Suggest other skill models
Profiles in Business
Plenty of organizations have HR systems that track employee skills and profiles. None at the granularity we are tracking and none aligning skills with business value.
Connect with us about use in business
Read more on Wes's blog: HERE